The IC REALTIME STORY
Established in 2006, IC Realtime is a leading digital surveillance manufacturer serving the residential, commercial, government, and military security markets. With an expansive product portfolio of surveillance solutions, IC Realtime innovates, distributes, and supports global video technology. Through a partnership with technology platform Camio, IC Realtime created Ella. A cloud-based deep learning solution that augments surveillance cameras with natural language search capabilities, Ella is revolutionizing video search functionality for the entire industry. IC Realtime is part of parent company IC Realtech, formed in 2014 with headquarters in the US and Europe.





IC Realtime offers a full line of surveillance cameras for any application or budget. Dome, Bullet, IP, COAX Night Vision and Motion sensing just to name a few.

Fill out the system application form below and we'll get back to you right away to assist you in designing the perfect system for your customer.







With support for anywhere from 1 to 256 cameras, IC Realtime's full line of IP, andalog and NEMA recorders will protect your customer's surveillance data 24/7

Fill out the system application form below and we'll get back to you right away to assist you in designing the perfect system for your customer.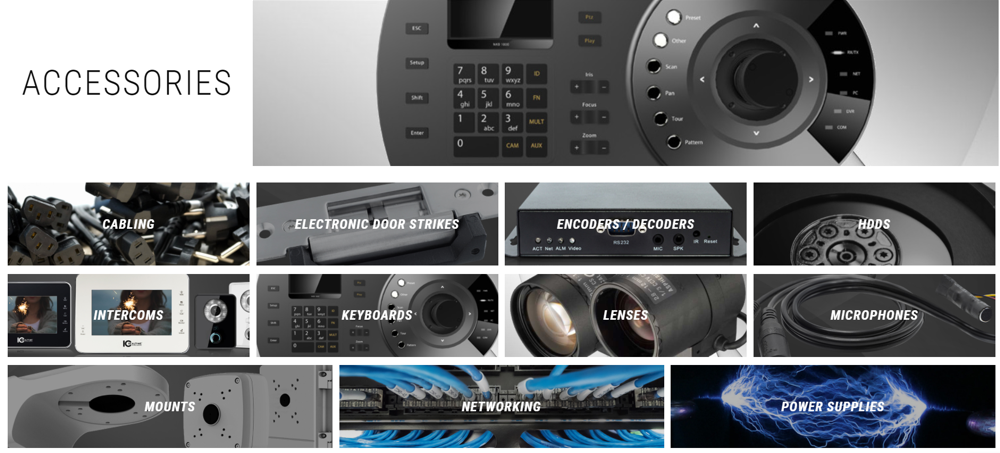 Complete your install with IC Realtime certified accessories like Expansion Hard Drives, Video Encoders and Decoders, Mounts, Power Supplies, Cabling and so much more. IC Realtime has everything you need to build out a full and robust surveillance system, and best of all, they're there to assist you allong the way!

Fill out the system application form below and we'll get back to you right away to assist you in designing the perfect system for your customer.




---
---
SECURITY CAMERAS NOT MADE IN CHINA
IC Realtime is officially moving away from manufacturing goods in China and moving into a TAA compliant country. As of Q1 of 2020, 30% of our production is in South Korea, and our goal is to have 100% by mid-2021. This migration into TAA compliant products (aka Trade Agreements Act) will open the door to broader opportunities and will allow us to work in new spaces. This movement will also reassure your clients that their security cameras are not made in China.
See Details
WHAT WILL NEVER CHANGE AT IC REALTIME
Dealer Protected Pricing
10-year Warranty
Lifetime Support
UL Listed Products
No Licensing Fees
Account Management
IC Realtime products integrate with Savant, Crestron, Control4, RTI, URC, and other home automation platforms - an infusion of video surveillance and smart home technology like no other.
WEB PORTAL
Your time is valuable and should be protected. Our intuitive web portal makes navigating returns, viewing price lists, or even scheduling tech calls easier than ever before. We believe that these useful tools contribute to the overall success of our dealers and their profitability. Pair that with dealer protected pricing and knock your socks off service - this is a winning combination.
See Details
IMPROVED TECH SUPPORT
We've listened to your feedback, and you can now expect reduced hold times! We've split our call volume based on dealers and end-users. Our industry-leading support team is here to serve you quickly and efficiently.
We'll continue to listen to your feedback and address the topics that are important to you.
See Details
IMPROVED DEALER SUPPORT
We understand that things happen - and when they do, frictionless processes pay dividends long term. Did you know that as an IC Realtime dealer, you have access to dedicated iCare customer service agents? You can expect faster turnaround times, field destroys options, and return labels included in all approved advance replacements.
See Details
DASH PRODUCT FAMILY
Debuted at the beginning of 2020, the Dash product family is emerging into a WiFi market that was overdue for disruption. The line takes existing ideals and improves features by adding recorder capabilities & truly "smart-er" home readiness - and we're not talking Alexa.
See Details
NEW CUSTOMER SUCCESS TEAM
Our new customer success team is here to support you throughout your journey. This team is designed to help you navigate the process from the initial application to the first installation and beyond. IC Realtime's eco-system is specifically geared to help you maximize your value.
See Details
GREENLINE CERTIFIED PRODUCTS
Surveillance systems enable dispensaries and grow houses in the cannabis industry to monitor facilities, eliminate threats, and secure inventory. Dispensaries & grow facilities must meet state regulations to conduct business. Heavily enforced laws vary by state, but one factor remains constant.
See Details