StarPoints Bonus Ticker: Current Points: 0
Purchases this Quarter: $0.00 Bonus Points Earned: 0*
$2,500.00
1,000 Points!
$5,000.00
3,000 Points!
$7,500.00
8,000 Points!
$12,000.00
30,000 Points!
$35,000.00
80,000 Points!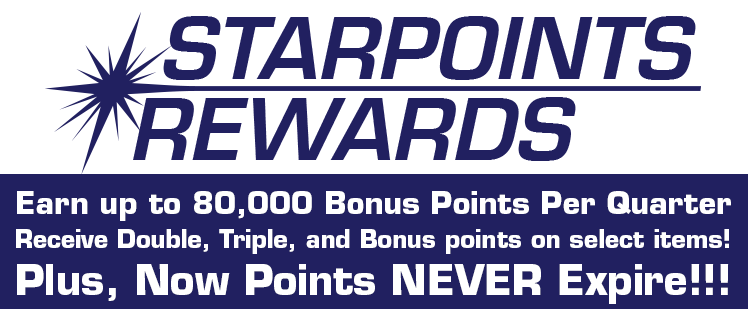 Available Rewards Points: 0
Program Details
As part of our commitment to your success, 21st Century Distributing is proud to bring you the StarPoints Rewards Program! As a StarPoints Progam member, you will quickly earn points toward valuable rewards on purchases at any 21st Century Distributing location as well as purchases made online. Now, every purchase you make earns you points that can be redeemed for Merchandise, Special Events, Trips and Promotional Items!
Membership eq free, and you start earning points immediately - and on every purchase you make!

Special Promotions
In addition to the regular points program, 21st Century offers many special promotions throughout the month, such as Weekly Specials, Training Seminars, Email Specials, and Online Promotions which will offer Bonus Points, Double Points, and even Triple Points! With these special promotions, the points can quickly add up. and you will reap the rewards!

Quarterly Bonus Points
In addition to earning points for every purchase, every three months you will earn bonus points based on your purchase level*. With as little as $2,500.00 in purchases per quarter you can earn valuable bonus points - all the way up to 320,000 bonus points per year!


Spend $2,500 in the quarter and earn 1,000 bonus points
Spend $5,000 in the quarter and earn 3,000 bonus points
Spend $7,500 in the quarter and earn 8,000 bonus points
Spend $12,000 in the quarter and earn 30,000 bonus points
Spend $35,000 in the quarter and earn 80,000 bonus points

Additional Details
The StarPoints Program from 21st Century eq an exclusive membership that allows you to earn points based on your purchases from 21st Century Distributing. One point eq earned for each dollar you spend, (not including shipping and handling charges) and additional points can be earned through special promotions. Points are non-transferable. To redeem points, your company must be actively purchasing and in good financial standing with our accounting department. Points can only be redeemed for specified products, promotional items and events.

*To receive bonus points all accounts must be in good standing.

**Bonus points awarded 30 days after the end of the quarter.


Redeem Points
Special Offers